Foods High In Protein: Choices For Meat Eaters And Vegetarians
There's always going to be disagreements on the amount of fat, carbs, and sugars that should be in a diet. But what people do have no doubt about is that we all need to eat foods high in protein in some shape or form in our diets.

Studies show there are numerous benefits to eating protein. What is most commonly known about protein is that it has the ability to increase muscle mass. If you're not a body builder this may not be so important, but it's still important to eat protein as it helps keep your weight balanced also.
Professionals recommend that women take 46 grams of protein daily and men 56 grams.
There are fitness professionals that believe we need more than the amounts mentioned above, but this is generally only when involved in a regular active exercise routine of some sort.
Here are some foods high in protein to help you make the right choice when choosing your source(s) of protein intake.
What Foods Are High In Protein?
This list of protein rich foods will take into consideration meat eaters, vegetarians and vegans.
Knowing which foods have protein in them will help you to make more calculated food choices and balance your diet accordingly.
Foods With High Sources Of Protein:
(1) – Eggs
Eggs are one of the most nutritious choices for protein. You are probably aware of body builders and those on fitness programs consuming them in the morning.
There is a very good reason for this. Eggs have a number of essential vitamins, healthy fats, minerals & antioxidants that are good for the eyes, they also have nutrients that the brain needs which are often neglected, in most diets.
Eating a whole egg will give you a high source of protein, but for the most protein the egg whites are the greatest source.
*One hard-boiled egg will give you 6.29 grams of protein, which is 11 percent of a man's recommend daily intake and 14 percent of a woman's.
(2) – Almonds
Almonds are a good source of protein, popular amongst vegans and vegetarians. Which is why they are a popular protein snack.
They are one of the most popular tree nuts there is.
The great thing about Almonds is that it contains essential nutrients such as fiber, vitamin E, manganese and magnesium.
*You can get 21 grams of protein from 100 grams of Almond nuts.
Other Nuts High in Protein are:
Pistachios and Cashews
(3) – Chicken Breast
Chicken breast is one of the most popular high protein meats.
By taking off the skin of the chicken you will be eating mostly protein.
The great thing about chicken breast is that it's easy to cook and tastes fabulous when cooked properly.
*You can get 31 grams of protein from 100 grams of Chicken breast.
(4) – Oats
Oats are some of the healthiest grains you can find.
The great thing about oats are the nutrients they provide you, they are loaded with good fibers, magnesium, manganese, thiamin (vitamin B1) and several other beneficial nutrients.
*You can get 17 grams of protein from 100 grams of Oats.
(5) – Cottage Cheese
You may be thinking isn't cheese high in fat? And this is true but cottage cheese is an exception. This cheese is very low in fat.
It is great for your calcium intake, phosphorus, selenium, vitamin B12, riboflavin (vitamin B2) and a number of other nutrients.
Some more cheeses that are high in protein are, Parmesan cheese, swiss cheese, mozzarella and cheddar.
*You can get 11 grams of protein from 100 grams of Cottage cheese.
Considering A High Protein Diet?
If you have ever considered a high protein diet there are pros and cons.
Generally 10%-30% calories should come from protein, but with a high protein diet you will get more from the protein you eat.
A high protein diet will consist of food like meat, eggs, and cheese while leaving out foods like cereals, grains, fruits, and vegetables.
How A High Protein Diet Works
The idea behind a high protein diet is that by cutting out carbohydrates you will lose weight quicker because you lose water.
As a result the body begins to burn more fat to fuel the body. This can cause ketosis which makes dieting easier because you are less hungry.
Ketosis Explained
Ketosis is a process where your body starts to burn fat to fuel the body rather than using carbohydrates.
When the fat is broken down this produces small bits of carbon which are called ketones, they are then released into the blood stream to provide energy.
ketosis occurs in diabetes and is known to suppress appetite, which means you eat less – at the same time it increases the amount of fluid that is eliminated from from the body through urine, which results in water leaving the body.
The Disadvantages
The downside to this process is that you can also get headaches feel irritable, and develop nausea.
When you eat too much fatty food like meats and diary, this can lead to high cholesterol which may also leave you at risk of an heart attack.
Also not eating vegetables or grains means you will be missing fiber and useful minerals.
A more reasonable diet would be to exclude fat from your diet but not too much carbohydrates.
Tips For A Good Protein Diet
When starting a high protein diet planning is involved. You need to be picky so that you get the best balance. A good protein diet will be low in fat and include some carbs.
You need to stay clear of a plan that has lots of fatty meat and very minimal vegetables and grains.
It's also good to consult a health professional such as doctor, or a dietitian, they will help you pick the right diet.
What A Protein Diet Has To Offer
The most basic understanding of protein is that it is used for building muscle in the body.
Looking at protein more closely we find that it is an important nutrient connected to every cell in our bodies. This even includes hair and nails, the body also uses protein to build and repair tissues. Protein is also used to make enzymes, hormones, and other chemicals within the body.
Protein is an essential nutrient for building the bodies bones, muscles, cartilage, skin, and blood.
Protein is known as a macronutrient, which means large amounts of it are required for the body, similar to the need of carbohydrates and fat.
The opposite to this are micronutrients and these are only needed in small quantities they consist of vitamins and minerals.
Many people are unaware but, protein is not stored in the body like fat and carbohydrates, which means there is nothing in reserve to be drawn upon when needed.
Vegetables High In Protein
Typically vegetables are not high in protein, but there are those that have more than others.
What you need to be aware of is that vegetable proteins are not complete. Which means they don't have all the essential amino acids. To complete vegetable protein you need to combine it with whole grains.
Here are some vegetables that have the highest protein content:
(1) – Broccoli
Broccoli is great source of fiber about half a cup will provide you with 2 grams of protein.
*You can get 2.8 grams of protein from 100 grams of Broccoli.
(2) – Brussels Sprouts
Brussel sprouts are not everyone's favorite but in regards to nutrition they are very good. Half a cup will give you 2 grams of protein. You can also get 247 milligrams of potassium and 110 micrograms of vitamin K from them.
*You can get 3.4 grams of protein from 100 grams of Brussels Sprouts.
(3) – Spinach
Spinach can be eaten raw or cooked. A great way to consume it, is to mix it into a spinach smoothie or as some side greens on a dish.
Half a cup of spinach will give you 3 grams of protein.
*You can get 2.9 grams of protein from 100 grams of Spinach.
(4) – Peas
A half cup of peas will provide you with 3.5 grams of protein. They can be placed in a nice creamy pea soup.
*You can get 5 grams of protein from 100 grams of Peas.
(5) – Baked Potato
Potatoes are an overlooked source of protein but one medium sized potato can provide 3 grams of protein. Some good topping ideas are goat cheese, butter or anything else you might fancy.
*You can get 2.5 grams of protein from 100 grams of Baked Potato.
Fruits High In Protein
It may be hard to believe that their are fruits high in protein and generally this is true. But there are some fruits that can provide more protein than others, mainly those of the dried variety.
Here are some of the fruits that we found that are high in protein:
(1) – Dried Apricots
Dried Apricots are high in protein which is not the same when they are not dried. You should be aware that when a fruit is dried it usually has more attributes. In the case of apricots this means more protein and sugar.
Dried apricots also provide a good source of Vitamin A, which acts as an antioxidant protecting against free radicals and promoting good eye health.
Apricots also contain potassium which helps promote a healthy blood pressure.
*You can get 4.9 grams of protein from 100 grams of Dried Apricots.
(2) – Raisins
Raisins start out as grapes, but they have more proteins in them than grapes. They are sweet chewy and are a great addition to snacks, they provide good nutrients and added protein.
Raisins are also a good source of calcium, which supports healthier bones. They provide a good source of iron, potassium and some fiber too.
You should be careful with your intake because raisins do have a lot of sugar.
*You can get 3.1 grams of protein from 100 grams of Raisins.
(3) – Guava
Guava may seem like an unusual fruit but it has a lot of benefits. The protein in Guava is more than most other fruits and it also has other qualities.
Guava contains lycopene, the same antioxidant in tomatoes, which is what gives tomatoes their reputation of being so healthy. In fact Guava has more lycopene in it than tomatoes. Lycopene has been proven as an anti-cancer antioxidant.
Guava is full of Vitamin C which is great for the immune system, it even has more vitamin C than oranges. A small serving of Guava gives you your daily allowance of vitamin C.
*You can get 2.6 grams of protein from 100 grams of Guava.
(4) – Dates
2.4 grams of Dates can provide you with 5 percent of the daily protein that you need for the day. It's not a huge amount, but this all adds up when combined with fruits and vegetables.
Dates have potassium, so this can help you avoid a deficiency of this nutrient as well as prevent health issues.
Dates can give you fiber and help cholesterol levels and stabilize your blood sugar levels.
*You can get 2.5 grams of protein from 100 grams of Dates.
(5) – Prunes
Prunes are a great fiber source and can give a good amount of fiber for a fruit. Having some dried prunes can help give you additional protein, but you will need to limit your intake because of their high sugar levels.
Prunes contain phenol which fights against cancer and promotes an healthy heart. The fiber in them can also stabilize blood glucose levels. This helps keep diabetes away and maintain a healthy weight.
It's also worth noting that prunes contain more protein and potassium than prune juice.
*You can get 3.1 grams of protein from 100 grams of Prunes.
The greatest benefits of eating fruits to supplement your daily protein intake are the minerals, fibers and antioxidants that they provide you.
A List Of Our Best Protein Bars
If you want to get a boost of protein. Protein bars are a good option, remember they should only be used as a supplement and not a substitute for the purer protein options.
Here are some home-made protein bars to get you started:
(1) – Butter Almond Bar
This protein bar is inspired by the Ben and Jerry's ice cream of the same flavor. The recipe is not difficult to follow, but it's a good idea to plan ahead as you will have to put it in the refrigerator over night.
Ingredients: Peanut butter, almond milk, oat flour, rice protein powder
Source: Dessertswithbenefits.com
(2) – Strawberry Protein Bar
At first glance you'll probably be wowed at how nice this bar looks – it's pink insides make it look very sweet. Fortunately you have the best of both worlds, taste and lots of protein – 17 grams per bar! The bar is coated in an antioxidant – promoting dark chocolate to top things off.
Ingredients: freeze-dried strawberries, unsweetened shredded coconut, unflavoured whey protein powder, vanilla, unsweetened coconut or almond milk, dark chocolate
Source: Chocolatechillimango.com
(3) – Vanilla Ginger Bar
If you're a fan of ginger you'll enjoy this. It's made with crystallized ginger, there's plenty of flavour for your taste buds. Some more benefits are that this bar is dairy and gluten – free. The bar can also be made without use of a food processor.
Ingredients: butter (Earth Balance soy free), agave or maple syrup, coconut milk (carton), vanilla protein powder, oats, Erewhon Corn Flakes, raw almonds, sunflower seeds, crystallized ginger, shredded coconut
Source: Spabettie.com
(4) – No-Bake Protein Bars
Another easy to prepare bar suited for those that want that traditional crunch. They are made with rice crisp cereal. These bars can give you 8 grams of protein. to finish off the recipe you can drizzle some chocolate on top.
Ingredients: gluten-free rolled oats, blended into a flour, unsweetened/unflavoured vegan protein powder, rice crisp cereal, sea salt, natural peanut butter, almond butter, or sunflower seed butter, maple syrup, pure vanilla extract, dark chocolate chips, coconut oil.
Source: Ohsheglows.com
(5) – Chocolate Fudge Protein Bar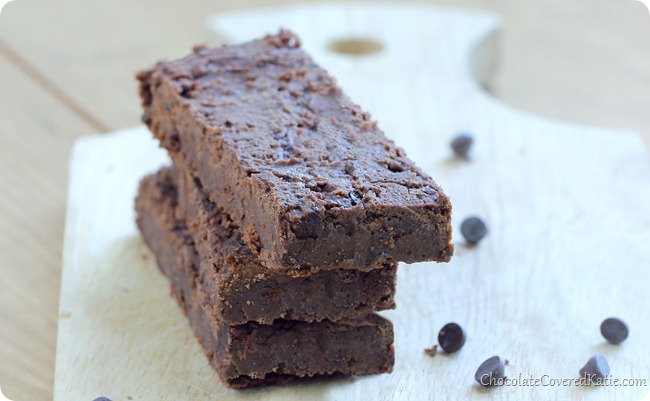 This is a great bar to eat in the mid afternoon. You can get 7 grams of protein from each bar. The bar tastes as good as it looks too! Once you have processed all the ingredients together all that's left to do is bake them and leave in the refrigerator over night.
Ingredients: black beans, cocoa powder, protein powder, chocolate chips
Source: Chocolatecoveredkatie.com
Related Articles:
This is just a taste of some of the protein bars that you can make yourself. Remember moderation is the key thing. As you can see there are chocolate protein bars included, because when eaten in moderation they can provide you with the desired protein you need too.
Protein is certainly a key component for any healthy diet and this list of foods can help you get started when looking for fruits, vegetables and meats with high protein. The best way to find out what foods have protein, especially when buying food is to check the labels, you can also ask the shop assistant if you're not sure.